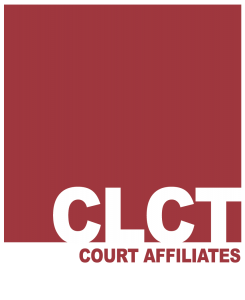 Upcoming Events
Check back soon!
Past Events
2020 Court Affiliates Virtual Conference
June 1-2, 2020
Courtroom Video in the Age of the Pandemic: Trials, Tribulations, and Wonders 
Virtually Hosted by the Ninth Judicial Circuit Court of Florida in Orlando, Florida
The 2020 annual conference, Courtroom Video in the Age of the Pandemic: Trials, Tribulations, and Wonders, was held remotely via videoconference on June 1–2. Our hosts, the Ninth Judicial Circuit Court of Florida provided a virtual tour of the most technologically advanced state trial courtroom in the nation.
Texas Administrative Director of the Office of Court Administration, David W. Slayton gave the keynote address titled "The Role of Video Technology in the Pandemic Era." Several Court Administrators and Judges in attendance shared challenges that courts now face in conducting virtual hearings, including how to present evidence, how to create a virtual court record, how to conduct the hearings, and data regarding virtual hearing outcomes.
Presenters also discussed current and potential future innovations and technology challenges for courts—including a presentation from Australia about Artificial Intelligence (AI)-based court record transcription and the potential use of video analytics to deliver emotional insights about witnesses, moving toward live, automated, lie detection.
After the close of the formal conference, Professors Fred Lederer and Nicolas Vermeys (visiting professor at William & Mary and Associate Dean of the University of Montreal Law Faculty) presented an optional session on the effects of the AI ecosystem on the legal system.
The 2021 Court Affiliates Conference is tentatively scheduled for June 9–10, 2021 and will be hosted by the Tenth Judicial District of Kansas, Olathe, Kansas (just 20 miles south of Kansas City).
Recorded Video Presentations: 
Welcome Remarks by Hon. Donald A. Myers, Jr.
  Keynote Address by David W. Slayton
  "Value of Video Technology in the Ninth Judicial Circuit," by Matt Benefiel
  "Courtroom Technology: View from Australia," by Hon. Andrea Tsalamandris
          "Trial Presentation, Court Storage, and Access to Audio/Video," by Fred Lederer, Tony Douglass, and Martin Gruen
  "How will Networked Audio/Video Change our Courtrooms and Beyond?" by Martin Gruen
  "Innovations, Current & Expected, or What's New in Our World and Beyond," by Fred Lederer and Tony Douglass
Disclosure: 
By registering for any Court Affiliates online workshop or other event, you consent to the recording of audio and video from that workshop or event and to publication of that recording on the Center for Legal & Court Technology's password-protected Court Affiliates website.